We love what we do.
We believe in 'less is more' kind of thinking, and a clear focus on high quality of our portfolio names.
Secure Transactions. Guaranteed by Escrow.com.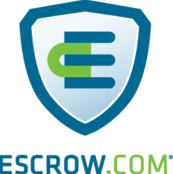 Your Benefits
Peace of mind, security, and convenience
Assured domain name transfer prior to paying seller
Ability to confirm domain ownership directly with the registrar before the final payment
Ability to pay by wire transfer and in some cases PayPal, check, money order, or credit card (Visa, Mastercard, American Express)
Ability to send your credit card information to a trusted financial institution
Easy access to live customer support by phone or email
About Escrow.com
Headquartered in Rancho Santa Margarita, California.
The company, founded in 1999 by Fidelity National Financial, is a government licensed and regulated online escrow company compliant with Escrow Law.